David Leeman shot wife Jennie after 'secret affair'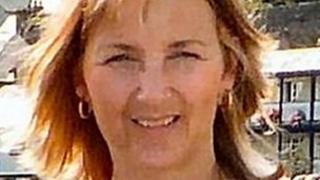 A husband who shot his wife dead after learning of her secret affair has gone on trial for murder.
David Leeman, of Higher Cowley Farm, Parracombe, Devon is charged with murdering Jennie Leeman last September.
The 60-year-old denies the charge, but admitted manslaughter at an earlier hearing at Exeter Crown Court.
The jury was told 44-year-old Mrs Leeman was shot five times with a semi-automatic pistol in a barn at the estranged couple's farm.
Mr Leeman has pleaded guilty to possession of a prohibited weapon - the gun used to shoot his wife.
His plea of manslaughter through loss of control was rejected by the prosecution.
'Two-minute chat'
Geoffrey Mercer QC, prosecuting, said Mr Leeman had shot his wife and was guilty of murder.
He said the Leemans' marriage had already been "on the rocks" when Mrs Leeman had started seeing 40-year-old Norman Laramy.
After a month together, Mr Laramy moved into a converted barn at the Leemans' farm and continued seeing Mrs Leeman.
When the defendant discovered the affair - six days before the shooting - Mrs Leeman left Higher Cowley Farm and moved in with Mr Laramy.
Mr Mercer said Mr Leeman had murdered his wife by emptying a magazine loaded with five bullets into her chest area from close range.
"This happened against the background of the breakdown of their marriage and Jennie Leeman forming a relationship with another man," he said.
Jurors were told Mr Leeman had asked his wife to accompany him to his office for a two-minute chat and they were then seen walking towards a barn.
Mr Laramy, who had gone to the farm with Mrs Leeman, said he then heard raised voices, Mrs Leeman screaming and then gunshots.
The trial continues.