Illegal denture man Stephen Sickelmore has sentence cut for brain tumour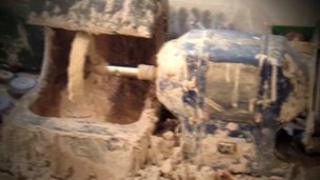 A former dental technician who made dentures in "appalling" conditions in his house has had part of his sentence cut.
Stephen Sickelmore, 52, of Dawlish, admitted illegally supplying dentures at Exeter Crown Court in January.
He was sentenced to nine months in jail, suspended for two years, and 180 hours unpaid work.
But a court hearing has revoked the community service because Sickelmore is receiving treatment for a brain tumour.
The court heard, in January, Sickelmore, of Old Gatehouse Road, sold home-made dentures at a cost of about £1,400 a pair from his business, The Denture Clinic, which was based in the utility room of his house.
Prognosis 'not good'
Sickelmore admitted operating as an unqualified dentist and two counts of using unfair business practices and was also given a supervision order as part of his sentence.
Mr Greg Richardson, representing the probation service at the latest hearing, said: "Mr Sickelmore has suffered a brain tumour and had an operation and is now receiving chemo and radio therapy.
"The prognosis is not good. He completed ten hours of the order and according to medical evidence it does not look as if he will be able to complete any more."
Judge John Neligan said the medical reports suggested the treatment he was receiving made it "impossible" for him to complete the 180 hours and "impractical for him to remain on supervision".
The suspended sentence remains in force.
At the original hearing prosecutors said many of Sickelmore's clients, from Devon and Cornwall, were housebound elderly people who were unable to visit a real dentist and many were left with left with painful, ill-fitting dentures.
The case came to court after an investigation by Devon Trading Standards found a makeshift laboratory in "appalling" conditions in his laundry room with no proper sterile area.