Saltram House flower tribute to mark asbestos cancer deaths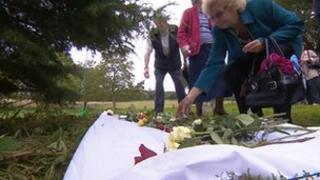 A special memorial has taken place in Plymouth for people affected by mesothelioma - a form of cancer usually caused by exposure to asbestos.
Patients, relatives and friends laid flowers at a tree specially planted in the grounds of Saltram House.
The event has been organised by the South West Mesothelioma Group, based at the Macmillan Mustard Tree Cancer Support Centre at Derriford Hospital.
About 2,000 people a year are diagnosed with mesothelioma in the UK.
The disease, which can take decades to develop, affects the thin lining of the chest and abdomen.
Exposure to asbestos dust and fibres is believed to be responsible for most mesothelioma cases.
'Worldwide ban' call
Kate Lansdell, a mesothelioma/lung cancer nurse specialist at Derriford Hospital said the event was arranged for Action Mesothelioma Day.
"The theme for this year's Action Mesothelioma Day is a call for a worldwide ban on asbestos use," she said.
"The South West Mesothelioma Group, which covers Devon and Cornwall, is also keen to use this day to raise awareness of the risks from asbestos that is still present in homes and in the workplace.
"Millions of homes were built when asbestos was regularly used in a wide variety of ways and as long as these buildings are inhabited asbestos can still pose a potential risk if disturbed."
Ms Lansdell said anyone who has been or is affected by mesothelioma can bring a single-stemmed flower to place at the memorial tree at Saltram.
It is the second year the flower-laying ceremony has taken place at Saltram.