David Leeman not guilty of murdering wife Jennie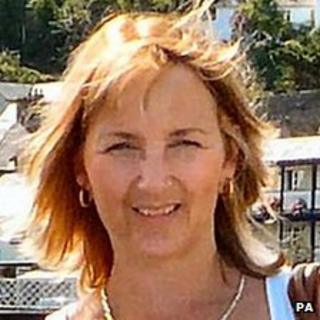 A businessman who shot his estranged wife days after learning of her affair has been cleared of murder.
David Leeman, of Higher Cowley Farm, Parracombe, Devon, shot wife Jennie, 44, five times at close range in September 2011.
The 60-year-old, who had denied murder, admitted manslaughter on the grounds of loss of control at Exeter Crown Court.
He said he wanted to protect his four children as he mistakenly thought her new lover was a paedophile.
He will be sentenced at Exeter Crown Court on Friday.
Jennie Leeman's family said they were disappointed with the verdict, claiming that justice had not been done.
A statement said: "No-one has the right to take another person's life. We feel disappointed that justice has not been done for such a terrible thing that David Leeman has done."
The court had been told after the couple separated Mrs Leeman began an affair with 40-year-old Norman Laramy.
'No winners'
Leeman believed he was a paedophile, although no evidence of sexual offending was found by Devon and Cornwall Police.
After killing his wife on 18 September with a semi-automatic pistol at almost point-blank range, Leeman claimed he had done it after losing control because she refused to listen to his warnings about her new lover.
Following the verdict, Det Insp Gregg Dawe of Devon and Cornwall Police said the outcome of the trial had resulted in "no winners".
He said the Leeman's four children were not only grieving the loss of their mother who had died, but also their father who was responsible for her death.
"The death of Jennie and the trial of David Leeman has had a traumatic impact on all of the family," he said.
"Their lives have been turned upside down since that fateful day in September of last year."