Loneliness 'affects Devon pensioners' health', MP Nick Harvey says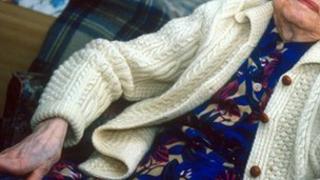 Loneliness could be causing physical and mental problems for thousands of elderly people in Devon, according to one of the county's MPs.
Nick Harvey, the Liberal Democrat MP for North Devon, said it was a major issue which should be taken seriously both locally and nationally.
Research, he said, showed 10% of over 65s were lonely - meaning "Devon had 19,000 lonely pensioners".
He said it was important to identify those at risk of social isolation.
'Lives cut short'
According to the Office for National Statistics, between 20 and 30% of North Devon's population in 2009 was over the age of 65 and the South West had the highest migration of people over the age of 60 in England - reflecting retirement to coastal areas.
Mr Harvey said plans by the government to work with the care and support sector to develop measures of loneliness should help older people in his constituency to receive the help and support they needed to re-connect to their communities.
"Loneliness is one of society's unspoken problems," the MP said.
"Far too many people live alone, without day-to-day contact with friends, family and neighbours."
He said it was morally right to ensure no-one lived in isolation, when research showed that loneliness had "as direct an influence on mortality as the effects of alcohol and tobacco".
If the issue was not addressed, Mr Harvey said, elderly people in Devon would continue to have their lives cut short.
"I believe the more we can do to provide people with the social contact they need to stay physically and mentally well, the better," he added.
Christina Victor, from the Campaign to End Loneliness, said research over decades had shown that between 6% and 13% of older people feel lonely "often or always".
The campaign - set up in 2010 by Age UK Oxfordshire, Counsel and Care, Independent Age and WRVS - said increased longevity was leading to more people living alone for longer.
It said families in the UK were becoming increasingly dispersed, with children moving greater distances away from their parents.
Some people who were lonely would drink excessively, have unhealthy diets or take less exercise.