A&E death man Michael Poad's 'given no chance to survive'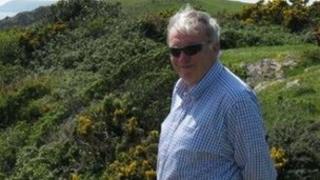 The family of a man who died without seeing a doctor for five hours after being admitted to a Cornish hospital is considering legal action.
Michael Poad, 64, from St Austell, died in December 2009 at the Royal Cornwall Hospital when a major blood vessel tore, causing a cardiac arrest.
On Friday Cornwall's Coroner ruled that Mr Poad did not die from negligence.
But after the inquest, Mr Poad's daughter Alison said her father was "denied" any chance of surviving.
'Agonising pain'
"He presented symptoms of a fatal condition; yet, when he arrived, there was no attention, or care, or any attempt to diagnose him, so he was effectively denied any chance of survival," she told BBC News.
"He may not have survived, but he was denied any chance of it."
The inquest was told Mr Poad's wife found him on the bathroom floor with "agonising stomach and back pain" in December 2009.
Paramedics who transported Mr Poad to the Royal Cornwall Hospital suspected an aortic aneurysm and gave him morphine.
This information was provided in a handover to the hospital's accident and emergency department, but staff nurse Mark Lewis told the inquest Mr Poad had shown "no signs of being seriously ill" and was classified as a standard, non-urgent case.
His blood pressure was taken and more morphine was administered, but Mr Poad was not seen by a doctor until he suffered a cardiac arrest at 08:10 - five hours after being admitted. He was pronounced dead about 20 minutes later.
Consultant Andrew Virr told the inquest that Mr Poad had a dissected aneurism of the ascending aorta - a tear in the blood vessel leading up to the heart - which was a rare condition.
He said it was unlikely Mr Poad would have survived, even if he had been seen.
Plymouth cardiac surgeon James Kuo told the hearing the mortality rate for a dissected aneurism procedure was about 30% to 40%.
Even if Mr Poad's condition had been spotted at an early stage, he said, it would have taken about four hours to transfer him from Truro to Plymouth for emergency surgery, meaning his chance of survival was "not good".
In a narrative verdict, Cornwall Coroner Dr Emma Carlyon, said she accepted the medical evidence, saying: "I cannot find any failing connected directly to the deceased's death".
The Royal Cornwall Hospitals Trust it was "deeply saddened" by Mr Poad's death and his case had led "to a number of improvements".
Any patient who had been given morphine prior to admittance was now treated as "urgent", it said.