Cost of flooding '£4m and rising' Devon County Council says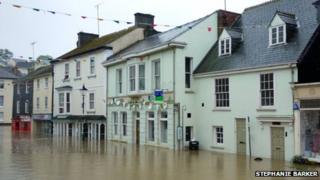 The clean-up and repair costs of flooding in Devon has topped £4m - and is still rising, according to the county council.
A month's worth of rain fell across the county over 24 hours last weekend, with Yealmpton, Modbury and Ottery St Mary being among the worst areas hit.
A bid for emergency government funding is being made by the council.
Councillor Stuart Hughes said the torrential rain had caused considerable damage to the county's road network.
The council said initial estimates had revealed the clear-up costs would be more than £1m and the repair bill to Devon's highway network more than £3m.
It warned the figures were likely to increase as the assessments carried out so far, had only been based on about 25% of the county's roads - the majority of which have been the major A and B roads.
"There are a number of issues already identified on unclassified roads in East Devon and the South Ham areas, and problems are still being reported which illustrates the size of the task at hand," Mr Hughes said.
"The repair bill will undoubtedly run into millions of pounds - probably on a similar scale to what we have seen during some of the recent harsh winters."
Mr Hughes said the priority was to ensure the county's A-roads were repaired "to keep the public safe and to keep Devon moving".
The collapse of Old Beer Road in Seaton, near the South West coast path, on Friday is also thought to have been caused by the recent heavy rain. It has been closed indefinitely and members of the public told to stay away.
According to the Environment Agency, up to 90mm of rain fell in parts of south Devon and up to 120mm in parts of east Devon last weekend.
Many parts of the UK have been affected by flooding this summer and the government has pledged financial support to some affected communities.
The Environment Agency said lessons would be learned, although it insisted flood defences had worked well.