Rain ends Devon vegetable box scheme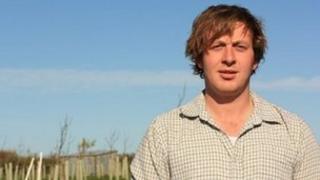 A Devon vegetable box scheme has been suspended "indefinitely" after weeks of heavy rainfall left fields flooded.
Avonwick-based Nearly Naked Veg Company was created four years ago and has delivered up to 220 boxes every week.
But the weather, along with an unfavourably long growing season in 2011 and increased fuel costs mean it has been losing £2,500 a month.
Founder Ben Brunning, 29, said he now intends to concentrate on his wholesale vegetable business.
'Very sad'
Mr Brunning told customers: "I have farmed all my life but I can honestly say this year has been the worst year in my career for growing horticultural produce."
He said that a mild winter meant crops had been harvested months earlier than normal, leaving almost nothing left for the spring.
The heavy rain and lack of sun this summer had made the lack of produce worse.
He said the fields at Newton Ferrers where he rents 18 acres of land had got so wet about 70% of the crops had failed and if the long range forecast of more poor weather was right, a new crop would probably fail again.
He said: "Everything has either been drowned by rain or is not growing through lack of sun.
"It's very sad. I've been farming all my life and I'm still doing what I love.
"But we are not the only guys in this situation, all over the place growers are struggling and horticultural crops are failing left right and centre."
He added: "Perhaps we have to re-evaluate what we grow and start crossing varieties to make them more robust to different weathers.
"Plants can't cope with the stress of going from drought to flood."