Castle Drogo gets £2.5m Heritage Lottery grant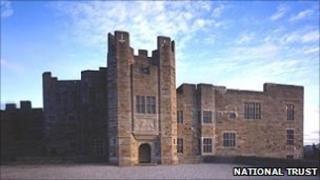 A Devon castle which needs £11m for refurbishments has been given a £2.5m grant from the Heritage Lottery Fund.
Castle Drogo, which was built near Exeter in Devon at the beginning of the 20th Century, was taken over by the National Trust in 1974.
Designed by Sir Edwin Lutyens for the retail tycoon Julius Drewe, it was completed in 1931.
A public appeal to raise £1.5m towards the refurbishment has raised about £1m.
The National Trust said if extensive conservation was not undertaken, the castle could become unsafe.
'Historic treasure'
"This grant will help safeguard the future of one of the country's most iconic buildings," the National Trust's regional director Mark Harold said.
Julius Drewe's dream of an imposing granite fortress took 20 years to build.
The National Trust said 2,355 granite blocks weighing 680 tonnes will have to be removed and then returned as part of the conservation work, while 900 windows containing more than 13,000 panes will be refurbished to stop them leaking.
Part of the trust's plans for the future of the castle also include new learning and exhibition spaces.
Richard Bellamy, from the Heritage Lottery Fund, said Castle Drogo was one of Devon's "historic treasures".
"In addition to saving the unique building from the threat of loss, this fantastic project will also ensure that more people are able to actively engage with both the castle and its surrounding estate," he said.
"Together we can ensure that this fine example of the country's heritage can be enjoyed by visitors for many generations to come."