Legal action to move travellers from Plymouth's Central Park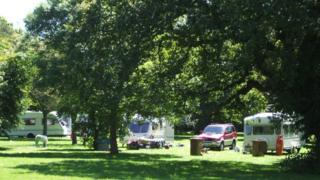 Legal action has begun to remove travellers who have set up camp in Plymouth's Central Park.
Four caravans, vehicles and a number of horses are on the Devon site, close to the city's new multimillion-pound Life Centre.
Plymouth City Council said it had been made aware of the unauthorised encampment on Tuesday.
Council officials have carried out welfare checks and the council said it would follow its normal procedures.
According to those procedures, an example of an "unsuitable location" includes "places of natural and public interest where inhabitation causes genuine disruption".
The city has one permanent Gypsy and traveller camp at The Ride, next to Chelson Meadow.
In January the Homes and Communities Agency awarded the council £790,000 to create 15 pitches in the city, which the council said would "save thousands" in the costs involved in dealing with the issue.
The authority, which dealt with 40 unauthorised encampments in 2011, said it costs about £300,000 a year to clean up after people who illegally set up home.