Council house tenants in Devon paid to downsize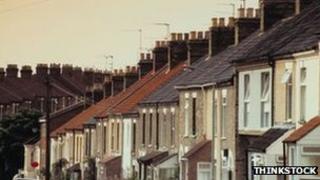 More than £700,000 worth of cash incentives have been paid out to social housing tenants in Devon to encourage them to move into smaller properties.
Figures obtained from five councils and two housing associations said the money had been spent over five years.
The schemes have resulted in an estimated 330 properties being released for larger families.
But not everyone involved said they thought the scheme was a good use of taxpayers' money.
Dave is a father-of-five from Ivybridge. Up until 2010, his family was living in a cramped two-bedroom council house.
His family moved to a three-bedroom property after 65-year-old Sally Pearce decided to accept a £3,000 incentive to downsize.
Although Dave said he was grateful a bigger property became available, he said he had reservations about giving cash to tenants to downsize.
He said: "Giving someone money to move seems like a bribe to me.
"People whose children have moved on maybe should be asked by the council to move anyway.
"Maybe there should be no cash incentive. It should just be a case that, if you've got too many rooms, it's time to give it to a family."
Mrs Pearce's four children had all left home and she was beginning to find it difficult to manage her three-bedroom property.
She moved to a smaller property nearby, but admitted she would probably have moved even if she had not been offered money.
'Value for money'
But she added: "It does cost to have to move and downsize, so I think it is quite fair."
South Hams District Council has released 22 properties at a cost of £38,000 in incentives during the three years it has run its scheme.
It and other local authorities could force tenants to move to other properties.
But South Hams said it preferred to incentivise people rather than enforce any compulsory moving of people for what was a relatively low cost.
Councillor Jonathan Hawkins, cabinet member for housing of the Conservative-led authority, said such fees only cost about £1,700 to £1,800 per property "on average".
He said: "When a new house can cost many more thousands than that, this is obviously very good value for money."
As well as the councils in Exeter, South Hams, Mid Devon, West Devon and East Devon, some housing associations also offer the deals.
Teign Housing offers £3,500 if anyone gives up a three-bedroom home.
But payments can vary between organisations.
Exeter City Council offers £2,000 if a tenant gives up two rooms, while Mid Devon offers a flat fee of £1,000.
Next week Mid Devon's cabinet will decide whether or not to increase payments to a maximum of £2,500 as 20% of council houses are under-occupied.