HMS Triumph checked after Legionnaires' disease case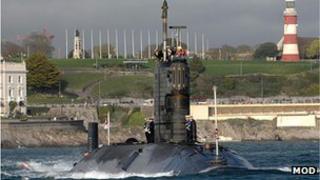 Checks have been carried out on a Devon-based submarine after a civilian contractor who was on board was later diagnosed with Legionnaires' disease.
Trafalgar-class HMS Triumph arrived back in Devonport in Plymouth, on Sunday after an 11-month deployment.
The Royal Navy said the contractor left before the vessel returned to base and it did not believe he picked up the illness on board the submarine.
The 130 crew members had been warned what the symptoms were, it added.
Legionnaires' disease is a condition that can lead to lung infection or pneumonia.
It is caused by a bacteria which is found widely in rivers and ponds, but can thrive in artificially heated water such as that in heating plants, hot tubs or whirlpools.