Grand Western Canal training for Devon runner Jo Pavey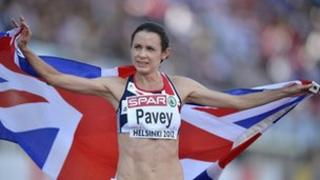 For many visitors to Tiverton in north Devon the Grand Western Canal is a place to relax, but for one resident it has been an essential part of her Olympic training.
Jo Pavey has spent several months running along the canal in preparation for the 10,000m at the London 2012 Games in which she finished 7th with a personal best time.
"Tiverton has been a great base for us. I do all my mileage along the Grand Western Canal," she said.
"It has got everything I need here, apart from the weather. I have just had to get on with it, doing track sessions in monsoon weather."
It was the historic canal, completed in 1814, that attracted Pavey and her husband Gavin - who is also her coach - to base themselves in Devon.
During her Olympic build up she has been running up to 130 miles per week
Pavey said: "The canal's perfect and that was the decision, we just wanted to be near the canal. It's provided miles of off-road training."
During 2010 and 2011 Pavey was plagued with stress fractures to her feet and could not manage more than 10 to 12 weeks of training.
She attempted two marathons during that period but with mixed results.
This year she returned to the track with the aim of making her fourth Olympics.
Her determination brought almost instant success with a silver medal in the 10,000m at the European Championships in Helsinki.