Okehampton's Learn Direct internet course to end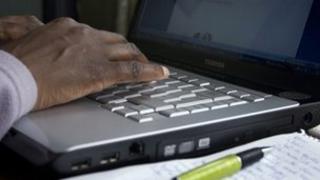 Jobseekers in Devon have reacted angrily to news that internet services provided at a Learn Direct centre in Okehampton are to end.
The centre was originally set up to give unemployed people in rural areas the chance to learn computer skills, with on-site support.
The charity which runs the courses, Westward Pathfinder, said the grants it relied on were no longer available.
Jobseekers said they would now have to go to Exeter to use the same service.
'Very upset'
Neil Snell, who uses the centre, said: "We need somewhere we can go and use computers, with help, so we can find jobs.
"If this goes Okehampton has nothing. The town should get together and save it. I'm upset, very upset."
The centre, which currently has 11 computers with internet access, will stop its "open-access" internet services at the end of August.
Geoff Mills, who has run the Okehampton Learn Direct centre for 12 years, said: "My main concern is the people of Okehampton and the people I deal with. They are the ones I feel sorry for. They need the facility.
"It can be done at home, but you have no tutor support and it can be difficult to motivate yourself at home."
George Curry, Westward Pathfinder's chief executive, said: "I understand totally the need for the centre, but we're having to make these hard decisions that are being forced on us by cuts in grants and programmes."
Devon County Council said it was disappointed the on-site facility would end.
Will Mumford, a spokesperson from the council, said: "We're not in the position to buy everyone computers, but what we can do is try and improve computer literacy and computer usage. Exactly how we can do that we will have to look at."