Dismissal 'fair' in Exeter Flybe pilots row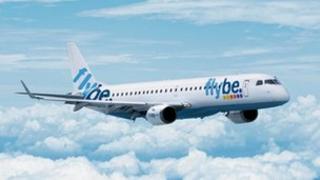 Two pilots who were sacked for arguing on a flight between Devon and Spain were fairly dismissed, an employment tribunal has found.
Captain Stephen Bird and First Officer Stephen Akers were dismissed by Flybe after arguing in the cockpit.
The Exeter tribunal heard that both men got into an argument on a flight to Malaga.
They claimed unfair dismissal but Flybe was found to have acted fairly by the employment tribunal.
Capt Bird said of the exchanges on the Exeter to Malaga flight that the exchange was "banter" between the two.
His remarks were in said in "jest and a clearly jovial manner" and that he had later apologised.
'Completely unacceptable'
The tribunal heard that as well as name-calling Capt Bird ignored his co-pilot's request to avoid bad weather and Mr Akers refused to shake his hand after landing.
Captain Stan Wood, who led the Flybe internal inquiry, said: "In my view Stephen Bird did not act as a captain should have.
"He chose to engage in the argument with Mr Akers which exacerbated the situation."
He said Mr Akers should have asked for another pilot to take over for the return flight as any breakdown in crew relationships caused a "potential risk to safety" and "swearing at your captain during the flight is completely unacceptable".
Capt Bird, from north Devon, said he did not think the aircraft should have been grounded over "a relatively minor altercation" and added he had not found any work since his dismissal.
Employment Judge Christopher Carstairs said: "The unanimous judgement of the tribunal is that the respondent fairly dismissed the claimants."