Olympic Nowhereisland 'invaded' in Devon by swimmers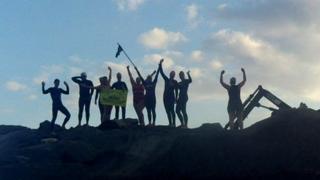 A group of swimmers say they have twice staged what they have called coups of an Olympic "island" off Devon.
Nowhereisland, part of a £500,000 Cultural Olympiad project, is a mobile sculpture made from material salvaged from a glacier in northern Norway.
Swimmers climbed on to the sculpture on Monday while it was off Torquay, and again on Thursday evening at Plymouth.
Island bosses said they were glad the project had generated interest, but added people should not go on it.
The island, which is a project started in September 2011, features about six tonnes of rock on a barge which had been under the retreating glacier in the Svalbard peninsula.
The self-declared utopian nation was towed 2,000 miles (3,200km) to Britain from the Arctic.
Nearly 17,000 people have signed up as "citizens" via the Nowhereisland website, although organisers have previously said no-one is actually allowed on it.
The swimmers said they carried out what they described as an "invasion" to get up close to the project.
In Plymouth on Thursday night, 12 people reached and scaled the island, which was about half a mile (800m) offshore at Jennycliff Bay, before carrying out a victory dance.
They also unfurled a banner and left a plastic squirrel and duck.
Swimmer Pauline Barker said: "It just seemed like a fun thing to do.
"It's designed to be an art project to get art closer to the people, and we are the people, so we decided to get as close as we possibly could.
"It's not really recommended, but we just wanted to show our appreciation for those who put this amount of effort into art."
She said that the squirrel and duck were left because the island "looked lonely and deserted, so we thought a bit of population might help".
She added that the group was made up of experienced swimmers, "so it's not something to just get in your head and do."
A spokeswoman for the project said: "It has generated interest and swimmers and sailors have been enjoying going past it".
She said: "It's a new piece of landscape and people are intrigued, but we advise that people not go on to it."
The project has attracted criticism, with Devon MP Geoffrey Cox previously calling the project an "astonishing folly".
The Conservative Torridge and West Devon MP said he believed the £500,000 could have been better spent elsewhere.
The Arts Council insisted the Cultural Olympiad was one of the reasons London's bid to host the 2012 Games had been successful.
Nowhereisland is sailing around the South West of England during the summer.