Plymouth bus lane cameras used to enforce restrictions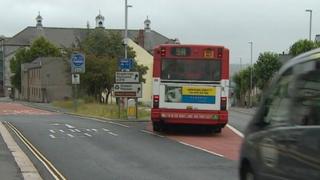 CCTV cameras have been installed in a Devon city to enforce bus lane restrictions.
Plymouth City Council said from Monday unauthorised drivers will face a penalty charge of £60 if they are caught on film.
Taxis, motorbikes and cycles will still be allowed to use some lanes, but others will be exclusively for buses.
A council spokesman said the aim was to keep traffic flowing and make the roads safer.
Six cameras have been sited in areas highlighted by public transport operators as causing problems, but they can be moved to any bus lane in the city at any time.
The council said the cameras will be clearly signed and the restrictions will be in force 24 hours a day.
The £60 fixed penalty will be halved if the charge is paid within 14 days of it being issued.
"It's not a money raiser - this is a serious attempt to try to make sure the traffic flows freely around the city," Councillor Mark Coker said.