Devon landlord praised after pub attack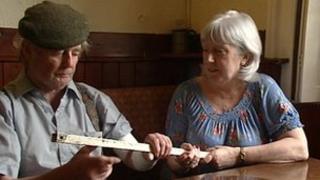 A pub landlord was attacked with an iron bar by a suspected burglar - only 10 days after an earlier break-in.
Godfrey Perkins, 72, was hit repeatedly by the intruder at the Market Inn, Tavistock, on Tuesday.
Mr Perkins, who was called "brave" by police, was knocked to the ground and suffered bruises to his left arm.
Police said they were not ruling out links with a burglary at the pub on Whitchurch Road on 4 August.
Mr Perkins, who had come downstairs to the pub in the early morning, said he was shoved out of the way by the burglar whom he found ransacking the pub's till.
"He started laying into me with an iron bar," he said. "I took most of the blows on my arm."
The bar is thought to have come from a window in the pub.
"I went down on the ground," said Mr Perkins. Then the dog must have frightened him.
"It was a bit unnerving.
"But I'm not too bad, I'm old school, I'll be alright."
His wife Sally said: "Luckily it's only his arm that's injured. It could have been a lot worse."
Det Con Jason Bryant, from Devon and Cornwall Police, said: "I've got to commend him on his bravery.
"He handled himself particularly well and is assisting us with our inquiries so we can apprehend the individual responsible."
Mr Bryant said the attacker fled empty-handed.
He added that officers had not ruled out linking the assault with a break-in at the pub on Whitchurch Road on 4 August.
During that burglary, a substantial amount of cash a number of antique coins were stolen, he said.