Exmouth knife attack ex-boyfriend Malcolm Norwood jailed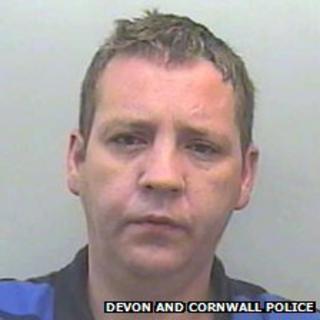 A Devon man has been jailed for threatening his ex-partner with a knife, two hours after police ordered him to leave her property.
Malcolm Norwood, 39, of Read Close, Exmouth, admitted affray after breaking into Surianne Jefferies' house.
The court heard that Norwood smashed a window to get into the property in June and then threatened Miss Jefferies with a kitchen knife.
He was jailed for 20 months at Exeter Crown Court.
The court heard that Norwood and Miss Jefferies had an "on-off relationship" for about a year.
'Feared death'
Janice Eagles, prosecuting, said Norwood took a serrated knife from the kitchen and went upstairs to Miss Jefferies' bedroom.
Finding her in bed, he pulled her to the ground by the hair before putting the knife to her throat.
Miss Jefferies had called the police after hearing the sound of smashing glass and fearing she was "going to be killed".
The court heard that Norwood eventually calmed down, went downstairs and returned the knife to a kitchen drawer.
He was arrested in the property by a policeman who had climbed through the broken window.
Recorder Michael Parroy said: "You attacked Miss Jefferies physically. There was not the slightest excuse for this behaviour at all."
Mr Warren Robinson, defending, said: "He is ashamed and disgusted at what he did."