Winds disrupt British Firework Championship in Plymouth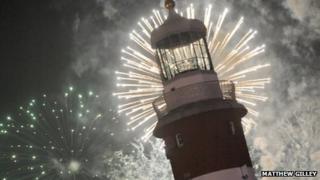 No winner is to be announced in the 2012 British Fireworks Championships after strong winds disrupted the second night of the two-day event in Plymouth.
Three teams performed on Tuesday night, with another three taking part in the competition on Wednesday.
But organisers said they did not judge any of the Wednesday round in the interests of fairness. Reduced displays did go ahead.
The two-day event every August attracts an estimated 100,000 spectators.
The 2012 competition was the 16th time the championship had been held in Plymouth.
Six contestants produce a 10-minute display at Mountbatten jetty in Plymouth Sound, aiming to become "champion of champions".
The city is due to host the competition until 2018.