Flood costs appeal to government by Devon County Council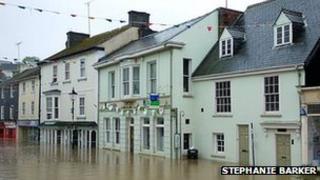 Repairing Devon's roads after this summer's floods will cost an estimated £5m and the county council is asking for help from the government.
The authority has called for emergency help beyond what is already available for clean-up and temporary repair costs.
Gaping holes appeared in some roads after landslides were caused by torrential rain in July.
The Department for Transport said there was no fund for exceptional requests.
The council said the so-called Bellwin Scheme helped with temporary repairs and clean up costs in excess of £1.7m, but it took no account of permanent repair costs.
In July, Yealmpton, Modbury and Ottery St Mary were among the worst hit areas.
Stuart Hughes, council cabinet member for highways and transportation, said: "We're working hard to try to restore our highway network, however if support isn't forthcoming from central government it will put significant pressure on the county's budgets."
In July, bridges across Devon were damaged, footpaths eroded and at Axmouth a wooden footbridge was washed out to sea.
The collapse of Old Beer Road in Seaton, near the South West coast path, was thought to have been caused by the heavy rain and has been closed indefinitely.
Highways teams were left clearing a catalogue of landslides, debris, and blocked drainage ditches, the council said.
Norman Baker, Transport Minister, said: "The Department for Transport has sympathy for the damage caused by recent heavy rains to the transport infrastructure.
"However, the department does not have a specific fund for exceptional requests for flood damage."