Olympic medallist Tom Daley's A-level on par with bronze, says mother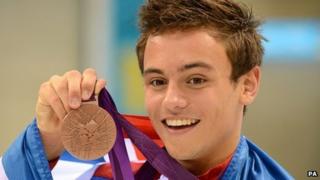 Tom Daley's A-level result is "just as good" as his medal success at London 2012, his mother has said.
The 18-year-old diver received an A grade in Spanish from Plymouth College on Thursday.
Debbie Daley said Tom has had to balance his school work with training for the Olympics.
She watched Tom win bronze in the final of the 10m individual platform at the Aquatics Centre at London 2012 on 11 August.
She said: "I always thought I wouldn't be nervous but I really was very nervous. It was an experience I'm so glad I didn't miss, it was absolutely amazing."
Brother's attention
On Friday, hundreds of screaming teenagers queued for hours to meet Tom at Cribbs Causeway near Bristol.
Mrs Daley said his brothers, Will and Ben, were "really, really proud" of him but also liked to "take the mick" for coming third.
She said: "They [his brothers] do take the mick out of him, but his 16-year-old brother does like the attention he gets as well because he's Tom's brother - it works both ways.
"Both his brothers play rugby really well, I go and encourage them the same way as I do with Tom."
The Plymouth athlete - who was born in 1994 - is to return to Plymouth College in September to continue his studies.
A "huge welcome home party" will be held in the city later to celebrate his Olympic success, Plymouth City Council has confirmed.
Tom currently lives at home with Mrs Daley and his brothers, although she said he is "bound to leave home sooner or later".
Despite having the London 2012 "poster boy" as a son, Mrs Daley said the family would take each day as it comes now that the London 2012 Games had finished.