GCSE success for would-be midwife Jodie Pitt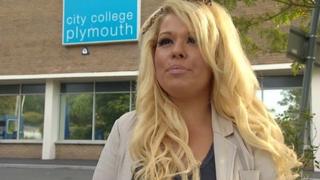 Ten years after leaving school with two "pretty dismal" GCSEs, a Devon hairdresser is on course to realise her dream of becoming a midwife.
And having now gained an A in GCSE science, an A in English and a C in foundation maths, mature student Jodie Pitt can legally celebrate her exam success with a couple of drinks.
The 25-year-old, from Stonehouse in Plymouth, will now go back to school in September to complete an access course before "hopefully heading to university" to train as a midwife.
"I did my exams at 16, but I got a G in maths and a D in English - pretty dismal really," she told BBC News.
"I couldn't be bothered studying so I left school and got an admin job in an office for about about a year, but I didn't really like it.
"When I was younger I'd always liked the idea of being a hairdresser or a midwife, but to be honest I chose the easier option."
'Life experience'
That option was a full hairdressing apprenticeship, followed by promotion and moves to several hair salons in the city.
"I did really enjoy it for a while, but about a year or so ago I decided I needed more of a challenge and started thinking about midwifery again," Ms Pitt said.
With "huge encouragement and support" from her mother, sister and brother, she went back to school at City College Plymouth last September.
"I was really quite nervous going back at my age, but the tutors were great and with such a mixed age group - from 16 and 17-year-olds to people even in their 50s - I quickly felt really comfortable," Ms Pitt said.
"Learning's been easier this time round and I think a lot of that has been down to my maturity and attitude.
"I wanted to do it and if you're 100% committed, your approach is different and it's not so difficult."
Ms Pitt will study biology, chemistry and psychology at Plymouth City College, after which she hopes to study midwifery at university.
"I'm ready and willing to put in all the effort it takes and I think my age could be an advantage - with a little bit of life experience behind me, I should be a better midwife," Ms Pitt added.