German World War II bombs dug up in Plymouth garden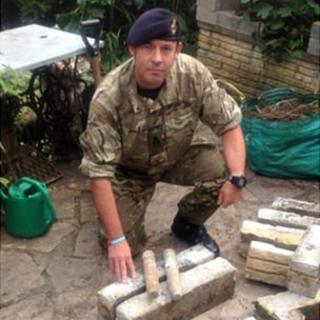 Two World War II explosive devices have been dug up in a garden in Plymouth.
A cordon was set up after the incendiary devices were discovered at 11:50 BST by the owner of a property in Mannamead Road while he was doing some building work.
The devices were identified as bombs dropped by the German air force during raids on the city.
A Royal Navy bomb disposal team took the devices away for disposal elsewhere.
Homeowner Colin Steer said he had dug them up while he was working in his back garden.
He called the police after identifying what the objects were on the internet.
'Quite dangerous'
Mr Steer said: "At first I thought they were weights from sash windows. But they looked like they were incendiaries dropped during air raids on the city."
Petty Officer Diver Sid Laurence, from the disposal team, confirmed they were, adding they were "common around the city area".
He said: "They are quite dangerous, they are still an item of munitions.
"If such devices are found by anyone, they should leave them alone and call police straight away."
Local traffic was not affected by the cordon, Devon and Cornwall Police said.