Devonport incinerator contract gets council go-ahead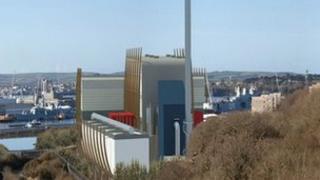 A planned waste-to-energy plant in Plymouth is to go ahead despite city council attempts to halt the project.
Permission for the incinerator in Devonport was granted last year by the previous Conservative administration.
Legal advice to the now-Labour-run authority said halting the project would cost more than £400m.
At a meeting on Thursday, the council's cabinet confirmed the project would go ahead. Some nearby residents have concerns about potential health risks.
'Bankrupt the city'
German company MVV Devonport Ltd was awarded the contract to build the plant at the Devonport North Yard last year.
It said the plant would burn 250,000 tonnes of waste a year, producing enough energy to power about 37,000 homes.
The facility would be 200ft (62m) from the nearest house, it added.
Drilling work at the site to prepare for the plant is under way.
Council leader Tudor Evans had asked for the 3,600-page contract to be examined as his party had pledged to look again at the plan when it came to power in May.
Legal experts said scrapping it could cost up to £430m in legal fees, compensation and damages.
Mr Evans said the project had to go ahead because breaking the contract would "bankrupt the city, not just the council".
He said: "We would be up for being sued for its lifetime costs and its profits."
The city's Conservatives previously said it would be "catastrophic" to break the contract.
The South West Devon Waste Partnership, which is behind the plans, said financial penalties would have to be paid if anyone pulled out of the deal or delayed the incinerator.
MVV said it would work with locals during the construction and operation of the plant to allay any concerns.