Homecoming parade date for Plymouth Olympians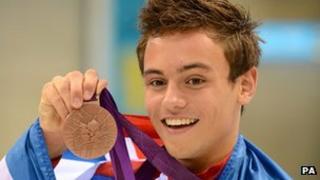 A homecoming celebration for Olympic medallists Tom Daley and Ruta Meilutyte will take place in Plymouth on 19 September, the city council has said.
Daley, 18, won bronze in the 10-metre individual men's platform diving and swimmer Meilutyte, 15, won gold for Lithuania in the 100-metre women's breaststroke.
An open top bus parade and an event in the city centre will be included.
The council said other athletes from the city would also take part.
The event will take place in the early evening with more details expected to be released later.
Council leader Tudor Evans said: "We are a proud city, and we want to honour the fantastic achievements of Tom, Ruta and the other competitors."
On 11 August, hundreds of supporters turned out to watch Daley in his final appearance at the London 2012 Games on the BBC's Big Screen in Plymouth city centre.
Earlier in the competition, Meilutyte, who moved to Britain three years ago, won Lithuania's first ever Olympic gold in the pool.
Both Meilutyte and Daley study at Plymouth College.
Pupils and teachers watched both competitors win their medals during London 2012.