Newton Abbot man 'killed friend with frying pan'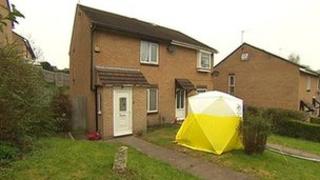 A man killed his friend with a frying pan in a "prolonged and brutal attack", a Devon court has heard.
Bryan Harris, 45, of Valley Path, Newton Abbot, is accused of murdering Paul Drury and attempting to cause grievous bodily harm with intent to Dawn Lewis.
The court heard Mr Harris hit and kicked Mr Drury, 32, and caused Miss Lewis extensive facial bruising.
At Exeter Crown Court Mr Harris denied the allegations. The trial continues.
The court heard Mr Harris hit Mr Drury with the frying pan and kicked him repeatedly at his home in November.
Blood on handle
Mr Drury suffered multiple head and fatal brain injuries, as well as injuries to his neck, jaw, ribs and ear.
It is also alleged Mr Harris attacked Miss Lewis, his girlfriend, causing her extensive bruising and cuts.
The court heard he told police two men and two women had burst into the property and attacked the pair and he had fought off the attackers.
But prosecutor Michael Fitton QC claimed Mr Harris used his feet and the frying pan to kill Mr Drury.
The jury was told blood from the victims was found in the living room and on Mr Harris' trousers and shoes. A finger mark in blood was found on the handle of the frying pan.
Mr Fitton said: "The defence case is he had lost his self control as a result of things said and done by others.
"The defendant does accept causing some injury to Dawn Lewis. But he clearly does not accept doing so with the intention of doing her really serious harm."
The jury heard Ms Lewis, who had taken a sleeping pill, cannot recall what happened but is due to give evidence later at the trial.