Seaton collapsed cliff road could 'put lives at risk'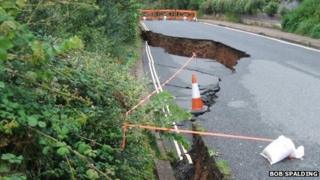 People have been warned not to go on to part of a collapsed cliff road in Devon.
The county council issued the warning after a safety fence on the closed section of Old Beer Road in Seaton was found to have been "tampered" with.
The road and footway have been closed since 12 July after a large section fell away during heavy rain.
The council said it would inform police of any further incidents and was trying to find a more permanent barrier.
The road, near the South West coast path, was fenced off after part of the road dropped about 3m (9ft).
The South West Coast Path has been diverted from the route.
Councillor Stuart Hughes said: "The fence is there for the safety of the public. If it is moved, or damaged in any way, it is not only a criminal offence, but it could potentially put lives at risk."
Earlier this month, the council estimated that repairing the county's roads after the summer's floods would cost about £5m.
It had requested additional funding from the government, but the Department for Transport refused.