Pregnant smoking figures rise for Devon and Somerset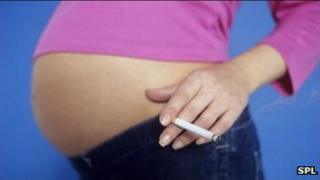 About a fifth of pregnant women in Plymouth, Torbay and Somerset are still smoking in the late stages of pregnancy, according to NHS figures.
Data for 2011-12 shows Somerset averaged 17.9% and Torbay 17.4% - well above the national average of 13.1%.
The worst figures were for the Plymouth area, with 20.5% of women still smoking in the last days of pregnancy.
The figure for the rest of Devon, excluding the two unitary authority areas, is about 10%.
Figures from the Plymouth area have risen over the past year by 3%.
Maria Cheshire from Plymouth NHS Stop Smoking Service said "many of the women may have been smoking for a long time in their early teenage years".
'Struggling to breathe'
Ms Cheshire women often "don't always understand the risks of the dangers of smoking during pregnancy".
Smoking reduces the oxygen to the placenta which poses risks for the developing foetus.
Charli Afzal, from Yeovil in Somerset, was referred by her midwife to the NHS Stop Smoking Service 12 weeks into her pregnancy to help her to kick her 20-a-day habit.
Ms Afzal said: "Every cigarette I was having I knew my baby was struggling to breathe inside and it scared me."
Smoking while pregnant has many health risks, including early miscarriage, bleeding, stillbirth, premature delivery and increases the risk of cot death.
Cornwall and the Isles of Scilly are just above the national average at 13.4%, a slight increase from the 2010-11 figures.