Torquay boulder fall forces Meadfoot coastal road closure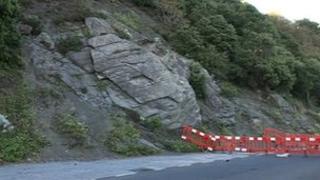 A coastal road in Devon has been closed amid safety fears after a large boulder slipped down a cliff.
Meadfoot Sea Road in Torquay was shut on Wednesday evening after the rock fall was reported to Torbay Council.
Machinery is being brought in to remove the boulder and a surveyor is expected so inspect the cliff side.
A council spokesman said Meadfoot beach has not been closed and pedestrian access is possible from either end of the road.
Highways manager Patrick Carney said the council's priority was safety, but the council would reopen the road as soon as possible.
"The boulder, which is thought to weigh several tonnes became dislodged and slipped down the cliff towards the road, although it came to rest before it reached the road," he said.
"Depending on what the surveyor says and once the boulder has been broken up and removed, we hope to be able to reopen the road in time for the weekend."