Plymouth council considers £5m domestic violence plan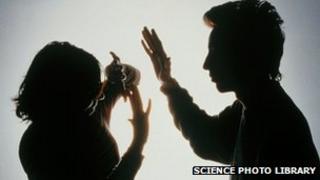 Plans to spend £5m over six years to support domestic violence victims and projects are being considered by Plymouth City Council.
The Labour council said it wanted to work on early intervention schemes, as well supporting victims.
It was part of a wider strategy to help problem families and give children a better start in life, it said.
Councillor Sue MacDonald said the support would include working with schools, colleges and universities.
The aim was to raise awareness and stop abuse happening, she said.
She said: "The Home Office said it cost the city £49m in 2010.
"That was in criminal justice proceedings, the health service, time lost from work, and losses as a result psychological and emotional distress.
"We will support victims, but we don't just want to just firefight.
"We want to break the cycle by raising awareness that this is the 21st Century, and this should no longer be tolerated."
The proposals will be discussed by Plymouth City Council's cabinet next Friday.