Police lose Taser cartridge in east Devon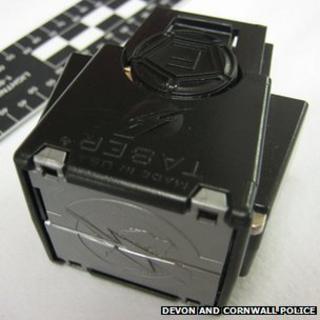 A stun gun component has been lost by a police officer on patrol.
Devon and Cornwall Police said the Taser cartridge was mislaid by an officer during a night shift in east Devon on Tuesday.
The unit is the section of the weapon that houses barbs which are fired into a target, and wires that connect them to the weapon's hand-grip.
The unit could be inadvertently discharged by a build-up of static if picked up or handled, officers said.
Tasers fire barbs which conduct a 50,000-volt electric shock that cause temporary paralysis in a target.
The weapon's generator is contained in the hand-grip, not the cartridge.
Although the potential danger to the public was very low, officers said that, if found, the cartridge should not be tampered with and anyone who found it should contact the police on the 101 phone number.
The cartridge was described as black, measuring 2in by 1.5in (5cm by 4cm), with the serial number C31017NX4.