'Urban centre' plan for Plymouth Airport site sparks anger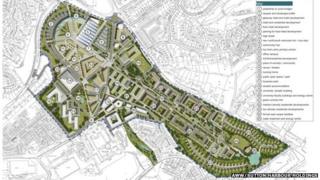 Plans to create an "urban centre" on the site of Plymouth Airport has prompted an angry reaction.
Sutton Harbour Holdings closed the airport in December, claiming it was no longer viable.
The airport is protected until 2021, but Sutton Harbour said the plan for housing, shops, and a theatre venue, was a "once in a lifetime" opportunity.
Business leaders, airport campaigners and the leader of Plymouth City Council have all criticised the plan.
The developer, which holds a 150-year lease for the site, submitted the proposals to be considered by the council as part of its action plan for the Derriford and Seaton area.
It said the plans show how the 113-acre site could be developed into a "new urban centre to meet the needs of northern Plymouth".
A primary school, nursing home, community centre, office campus and a park are also included in Sutton Harbour's plans which were drawn up by Plymouth architects AWW.
Jason Schofield, chief executive, said: "We have shown how the former airport site presents a once in a lifetime opportunity to create exactly what the Derriford and Seaton Area Action Plan strives to achieve, and more.
"There will be those that will accuse us of jumping the gun by publishing these plans, but we are responding to a planning policy debate that is happening now."
But Tudor Evans, leader of the Labour-controlled council, said the airport was protected for a further nine years and was not part of the consultation exercise.
"We are still working on the basis that we want the site to remain an airport until every possible opportunity has been exhausted," he said.
If a private sector operator was to put itself forward to run the airport, Mr Evans said the council would be "very happy to talk".
"An airport is a great thing to have in the city, but we just don't have the money to subsidise it,"
The council leader said Sutton Harbour's development plans were "an answer to a question we didn't ask" and not suitable.
"It's not a planning application - it's just a pretty drawing... and I don't think the council's going to take a very positive view of this at all."
Last month, Viable - a group focussed on reopening the airport - handed a 37,000-signature petition to the council which said the airport was vital for transport and business links.
'Highly speculative'
Raoul Witherall, Viable's director, said this proved the people of Plymouth wanted an airport.
He said: "Plymouth has plenty of housing and shops - we will fight any proposed redevelopment vigorously."
Viable would shortly be making an announcement about it's plans for the airport, Mr Witherall said.
"We're confident our proposals are both credible and workable," he added.
Tim Jones from Devon and Cornwall Business Council described Sutton Harbour Holdings' plan as "highly speculative and inappropriate".
"It's incredibly bad timing to submit such a plan before other options have been property considered," he said.
Mr Jones said, in his opinion, Sutton Harbour's proposal "would destroy an infrastructure asset which may have other uses".
Flights to and from the airport stopped in July 2011.