Plymouth Theatre Royal regeneration plan needs council cash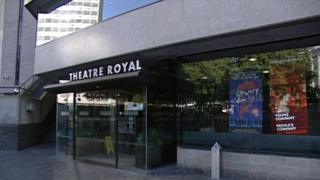 Plans for a major refurbishment of Plymouth's Theatre Royal will only go ahead if the local authority puts in nearly £2m.
The theatre has applied to the Arts Council for £5m, but the grant is dependent on a three-year funding guarantee from Plymouth City Council.
The theatre itself will also have to raise £2m of the revamp costs.
The Theatre Royal attracts thousands of visitors to the city and contributes an estimated £26m to the economy.
'Creative with assets'
It has the third highest economic impact of all 541 theatres in the UK - after the National Theatre in London and RSC in Stratford-Upon-Avon - and is the largest and best-attended regional theatre, according to the Arts Council.
The refurbishment of the theatre includes a third auditorium, which will allow it to develop its city centre outreach work for young people and community groups.
There will also be improved access and a "make-over" of the public areas outside the building.
The council's cabinet has been asked to consider a proposal which would see the theatre's revenue grant of £665,000 withheld for three years - which would then be put in as a lump sum of procured capital works worth £1,995,000.
Councillor Mark Lowry said the Theatre Royal was a key player in the arts and creative industries sector - one of Plymouth's priority growth sectors.
"By being creative with the assets we own and changing how we support the theatre financially, we can help the theatre access some considerable funding - which will be good for the theatre and good for the city," Mr Lowry said.
"We obviously have to be conscious of our own budget pressures, but we think this solution strikes the right balance and hope this will get approval to support the theatre with its plans and ambitions."
Adrian Vinken, the theatre's chief executive, said the plans could not go ahead if the proposed funding package was not approved
"Without the council's support, our proposed redevelopment would simply not happen and the associated physical improvements, economic, social and cultural benefits would be lost to the city," he said.
Planning permission for the regeneration project was granted in February.