Dying mare's instinct saved Dartmoor foal's life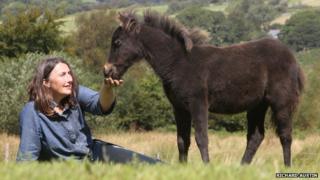 The life of a Dartmoor foal was probably saved by the instincts of her dying mother, horse experts believe.
The emaciated mare is believed to have trekked for days across Dartmoor leading the foal to her owner's home.
The mare died less than 24 hours later, but if the death had happened on the moor the foal would not have survived without her mother's milk.
The foal is now being hand reared by Charlotte Faulkner from the Dartmoor Hill Pony Association.
Ms Faulkner, who named the foal Queenie, has become almost a surrogate mother to the filly and has been bottle feeding her.
She said the maternal instincts of the mare to protect her foal had almost certainly saved her life.
'Great character'
Ms Faulkner's daughter, Storm, who has been helping to look after Queenie, said the foal is gradually being weaned and now spends some time in a larger paddock with other ponies.
"She's an absolutely great character and is doing really well now and starting to get quite independent," Miss Faulkner said.
"This is a bit of a test for Queenie, because my mum's gone away for a few days and the foal kind of looks on my mum as hers.
"But so far, so good and she seems really happy."
Miss Faulkner said it is not unheard of for mares to show this type of maternal instinct.
"Every year, all our mares make their way home off the moor when the foals are about ready to wean," she said.
"They'll stay for a couple of days - maybe to make sure we're looking after the foals properly - then they head back off to the moor."
Queenie, in the meantime, is still getting a little bit of special attention.
"Because she's been weaned a bit early, mum brings her in if it rains because she doesn't want her getting wet, but Queenie now loves being with her mates and wants to get out again," Ms Faulkner said.