Hirst pregnant woman statue is approved by planners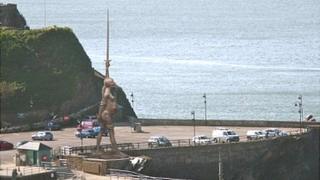 Plans to put up a 20m (67ft) high statue of a naked woman by artist Damien Hirst in a seaside town have been approved by district planners.
The artist has offered the statue, called Verity, to Ilfracombe in north Devon on a 20-year-loan.
The plan has now been approved by North Devon Council's planning committee. The council's executive will decide on Thursday whether to accept the loan.
Ilfracombe Town Council has already given its approval.
'Important project'
District councillors agreed by 10 votes to two that the bronze figure of the pregnant woman could be positioned on the town's pier.
Plans for the statue were submitted in June.
The application said the bronze-clad statue, carrying a sword, as well as scales with a base of legal books, was a "modern allegory of truth and justice".
Prior to the planning approval, council executive member Mike Edmunds said: "We have to look forward, we can't rely on our past.
"You have to have something new to draw people to the seaside and they are looking for a bit more than a bucket and spade seaside holiday."
The plans have attracted 177 letters in support and 100 letters of objection.
Mr Edmunds said: "I can understand people's concerns. Some people like his work and others object strongly.
"But the whole thing about art is that people can see different things in it."
A planning report suggested the statue could act as a "catalyst for further investment" in the town.
Mr Hirst, who has a restaurant in the town, has been unavailable for comment.