Bryan Harris guilty of Newton Abbot frying pan murder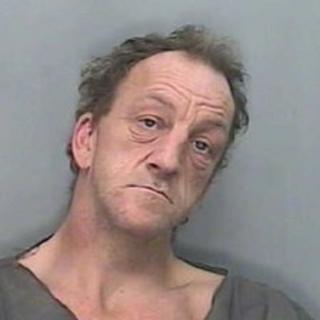 A man has been found guilty of murdering his landlord after battering him with a frying pan.
Paul Drury, 32, died after he was attacked by Bryan Harris at his house in Newton Abbot, Devon, last November.
Harris, 45, of Valley Path, Newton Abbot, denied murder, but told Exeter Crown Court he lashed out when he found Mr Drury having sex with his girlfriend.
Harris and his girlfriend, Dawn Lewis, had been living with Mr Drury.
They had been sleeping in the lounge of the one-bedroomed maisonette in Valley Path for six weeks, the court heard.
Harris told the jury he attacked Mr Drury after a sudden and unexpected loss of control, but claimed he had not intended to cause him serious injury.
Dented frying pan
He punched and kicked Mr Drury for between 15 and 20 minutes before turning on Ms Lewis and beating her, leaving her with two black eyes and severe bruising.
The court heard Harris, who worked at stables at Ideford, had claimed the attack had been carried out by a gang which invaded the house.
But he changed his story after Mr Drury's blood was found on his shoes and trousers.
He went on to deny using the frying pan in the attack, but a bloodstained fingerprint was found on the handle of the pan which had a large dent in it.
Harris was also found guilty of wounding Miss Lewis with intent to do her grievous bodily harm.
He is due to be sentenced on Tuesday.
Police welcomed the verdict, saying they hoped Mr Drury's family "can be comforted that he and they have received justice for his unnecessary death".
Det Supt Keith Perkin, of Devon and Cornwall Police, said: "Bryan Harris is a violent man and, during this trial, it is an image that he appears to enjoy.
"However, Harris targets vulnerable people and, in this respect, Bryan Harris is a coward."