Plymouth Theatre Royal gets £2m council lump sum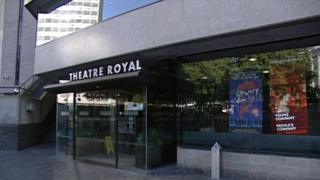 Plymouth's Theatre Royal is to get nearly £2m from the city council in a lump sum instead of three years of grants to partly finance a refurbishment project.
Councillors agreed on Tuesday to give the theatre £1,995,000.
The money would go towards building a new auditorium and a make over of outside public areas, managers said.
There would also be improved access to the building, which was completed in 1982.
City money-spinner
The council's cabinet approved a proposal which will see the theatre's revenue grant of £665,000 withheld for three years then put in the lump sum for procured capital works.
The planned refurbishment includes a third auditorium, which will allow it to develop its city centre outreach work for young people and community groups.
Planning permission for the regeneration project was granted in February.
The theatre is providing another £2m for the refurbishment itself.
The Theatre Royal attracts thousands of visitors to the city and contributes an estimated £26m to the economy.
It has the third highest economic impact of all 541 theatres in the UK - after the National Theatre in London and RSC in Stratford-Upon-Avon
The Arts Council said it was also the largest and best-attended regional theatre.