Plymouth book festival 'will put city on map'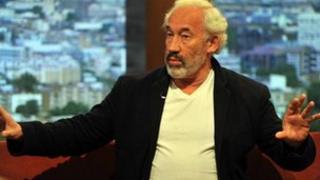 International crime writers, and novelists and poets are in Plymouth for the city's first book festival.
Organiser hope the nine-day festival, which starts later, will become the UK's "fourth great literary festival" alongside Cheltenham, Edinburgh and Hay-on-Wye.
Festival director Tracey Guiry said: "Plymouth has everything required to take its place on that roster."
Highlights include actor Simon Callow reading from Moby Dick.
The reading, on Sunday in the Plymouth University marquee on Plymouth Hoe, will be the launch of a project in which stars read a chapter each of Herman Melville's 19th Century classic novel for an online production.
City laureate named
Sir David Attenborough, Stephen Fry, Tilda Swinton, Benedict Cumberbatch and Cornwall-based TV chef Rick Stein among others have recorded each of the 135 chapters, which will be released daily.
Plymouth will also be naming its first young city laureate on Sunday after a competition to find a literary talent.
Chicago-based Audrey Niffenegger, author of The Time Traveler's Wife, British writers Helen Dunmore, Babette Cole and Patrick Gale are among those reading from their work.
There will also be workshops run by celebrated illustrators, while illustration students from Plymouth University will take part in a 24-hour comic book project starting on 19 September.
Ms Guiry, head of Cyprus Well, the South West's literature development agency, said: "With world-class authors and high quality events at venues across the city, this festival will really put Plymouth on the international literary map.
"We want this festival to make its mark on the city and the people who live both here and in the surrounding areas, so they are captivated by the written and spoken word in ways they never have been before."