Benefit fraudster Julia Carl 'hid' £36,000 offshore legacy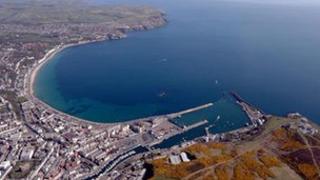 A fraudster who claimed £73,000 in benefits, despite having £36,000 in an offshore bank account, has been given a suspended jail sentence.
Julia Carl, 64, of The Strand, Bideford, Devon, continued claiming income support and pension credit after receiving a family inheritance in 1993.
Exeter Crown Court was told Carl kept the money as a "nest egg" for her son.
Carl admitted obtaining benefits by deception and was jailed for nine months, suspended for two years.
No 'high living'
She was also ordered to carry out 120 hours of unpaid community work.
Recorder Mr Andrew Oldland said there was no evidence of "high living" and the fact that Carl had been preserving the £36,000 for the benefit of her son had been a "very significant factor".
"It seems this does not have the cynical dishonesty which often characterises offences of this nature," he said.
Beth Heaton, prosecuting, said Carl inherited £36,000 from her aunt in 1993 which she deposited in a bank account in her name in the Isle of Man.
Despite this, she claimed more than £73,000 in income support, pension credit, housing and council tax benefit between 1999 and 2011.
But Mr Richard Crabb, defending, said Carl never considered the money as her own, but felt she was holding it in trust for her son, who had substance abuse issues.
Interest on the savings were used by Carl to pay off her son's school fees and buy him a car.
Mr Crabb said his client had chosen the Alliance and Leicester account in the Isle of Man "because someone told her she could get a better rate of interest".
"It is not as if it was a numbered account in Switzerland," he said.
The court was told the fraud came to light when Carl went to see an independent financial adviser about the account.