Plymouth Council to debate 37,000-signature airport petition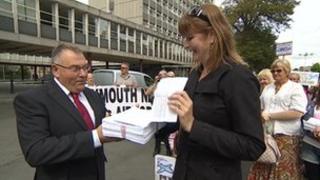 A 37,000-signature petition calling for Plymouth Airport to be re-opened is to be debated by the city council.
The airport closed in December after leaseholder Sutton Harbour Holdings said it was no longer viable following the economic downturn.
Labour unitary authority leader Tudor Evans, who accepted the petition last month, said there was a lot of "passion involved in this issue".
The debate will be held on 24 September.
'Do it justice'
Sutton Harbour Holdings took over the airport in 2000 after being granted a 150-year lease from Plymouth City Council, which owns the site in Roborough.
The new Labour council, who took control from the Conservatives, announced last month it was seeking a commercial partner to take over the site and run an airport.
However, the authority said it could not provide any subsidy.
Mr Evans said about the planned debate: "There's a lot of effort and passion involved in this issue and we will try to do it justice in our debate."
The council said its members debated any petition handed in which had more than 5,000 signatures.