Ryan King murder: Raymond Dupree 'you're down now' jibe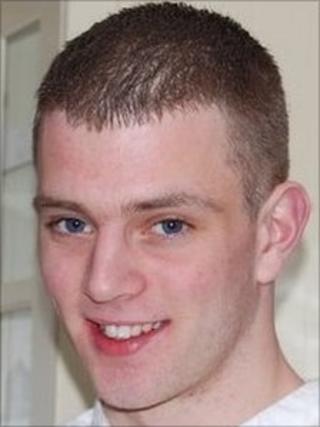 A man who stabbed his great-nephew in the throat with a glass at a family party appeared "proud" of his actions, a murder trial has heard.
Raymond Dupree, 68, of Bishop's Nympton, Devon, denies murdering 20-year-old Ryan King at Snurridge Manor House, South Molton, in August 2011.
Exeter Crown Court was told Mr King was attacked for "disrespecting his elders" when he tried to defuse a row.
Party guest Sarah Campbell said Mr Dupree boasted "you're down now".
Mr King died from loss of blood after his jugular vein was severed by a wineglass.
'Gesture of submission'
Mr Dupree claims the stabbing was an accident, but the prosecution has said Mr King was attacked when he tried to stop his "angry" uncle bullying a group of young teenage girls who were were still playing music at 03:00 BST.
Mrs Campbell told the jury she had stopped drinking and was clearing up when Mr Dupree became angry at the girls, referring to one as a "gobby cow".
She said when the girls tried to get away from Mr Dupree, Mr King told him they were only kids and he should leave them alone.
"[Mr Dupree] started pointing at Ryan and jabbing his finger and said he should respect his elders," Mrs Campbell said.
"I took Ray's arm to calm him down but he knocked me out of the way."
She said Mr King's hands were up "in a gesture of submission" and the younger man was not aggressive, but rather trying to calm the situation.
Mrs Campbell said after the alleged attack - which she did not witness - she was "surprised and shocked" when Mr Dupree said "something like 'you're down now'."
"He said it like he was proud that he had done it," Mrs Campbell added.
Adam Thorne, another guest at the party, told the jury the attack was unprovoked, claiming Mr King had been "totally non-aggressive" and Mr Dupree "angry" when they walked into the kitchen.
"I saw Dupree plunge a glass into his throat," he told the court.
"I saw it shatter and Ryan hold his neck with both hands - I could see from the look on his face he was in trouble."
Despite efforts by guests and then paramedics and doctors to close the wound on Mr King's neck, he died in North Devon Hospital from a loss of blood.
The trial continues.