Cargo ship MV Krempertor captain's death 'avoidable accident'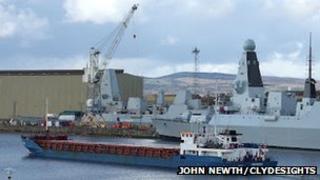 The death of a captain onboard a cargo ship off the south Devon coast is being treated by police as an "avoidable accident".
The MV Krempertor was travelling from Dordrecht in the Netherlands to Pasaia in Spain when the man died.
A Devon and Cornwall Police spokesman said the captain went down into an enclosed hold to investigate an alarm that was sounding.
He died from injuries sustained after a fall in the hold, police said.
The cargo ship, which was about 40 nautical miles off south Devon, was brought to Cattedown Wharves in Plymouth on Monday.
MV Krempertor is registered in Antigua and Barbuda, but is owned by the German firm Reederei Erwin Strahlmann.
Earlier, a company spokesman said he could only confirm there had been a fatality aboard the ship.