Exeter's ethnic history under spotlight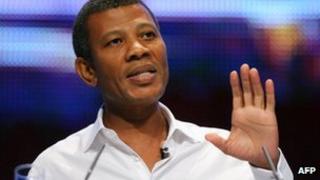 A team of volunteers is to explore Exeter's ethnic history in a Lottery-funded project.
Exeter's Multi-Coloured History will culminate in a website and a guided tour of the city, as well as a story-telling event next March.
Farmer Wilfred Emmanuel-Jones from Devon will launch the project, which received £49,300 from the Heritage Lottery Fund, on 1 October.
A team of about 20 local volunteers will carry out the research.
Exeter University, Devon Record Office, Exeter City Council and the Royal Albert Memorial Museum will help them.
Mr Emmanuel-Jones, founder of The Black Farmer foods, has been involved in helping people from minority groups to become involved in rural life.
Richard Bellamy of the Heritage Lottery Fund said: "We aim to help people from all communities to identify, care for and share their own and other people's history and traditions.
"That is why we are delighted to support this project, which will allow people in Exeter from different backgrounds to work together to explore the city's diverse heritage and at the same time foster community cohesion and understanding."
The launch will take place at The Global Centre at Exeter Community Centre on St David's Hill.