Egg farmers fined for fly invasion in Plymtree in east Devon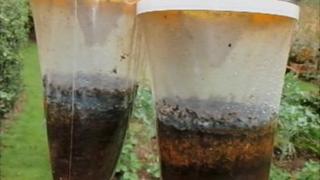 Two farmers have been fined for causing an invasion of tens of thousands of files which were found in fridges, dishwashers and beds in east Devon.
Herbert Persey, 63, and his son, James Persey, 32, from Fordmore Farm, Plymtree, were each fined £9,500.
Exeter Magistrates' Court heard the flies bred in waste produced in chicken sheds which contained 9,000 birds.
The flies flew into people's mouths and crawled up their noses during the invasion in October 2011.
The court heard that people living nearby found their carpets covered and flies were also in their food and drink.
The flies bred in waste produced in the chicken sheds, which should have been kept dry or taken away.
However, the court heard the waste had turned into slurry, which was ideal breeding conditions for the insects
The free range egg farmers had been convicted at an earlier hearing of failing to comply with an abatement notice from environmental health officers from East Devon District Council.
They were also fined £9,684 for failing to comply with the notice.
Magistrates said the farmers had neglected to take preventative measures and had failed to respond to the authorities.
The court was told both farmers would appeal.