Number of stressed GPs in Devon 'quadruples'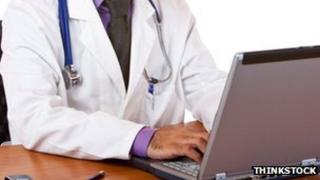 The number of GPs in Devon getting help for stress has quadrupled in less than a year, according to a local doctors' support organisation.
The Devon Local Medical Committee said the number of doctors contacting it with stress complaints or for pastoral support had increased to from three in 2011 to 12 this year so far.
The committee said it was partly due to a shortage of family doctors.
More funding for GP training was to go to Devon and Cornwall, the NHS said.
About 7% of GP jobs in Devon county are currently vacant, the medical committee said.
It added that members were concerned that not enough people were going into general practice, leaving heavy workloads for those already doing the job.
An extra £3.5m was being invested in training more people to do the job in Devon and Cornwall, the NHS said.
However, the local medical committee, which provides a local voice for doctors, said it could take a few years for the benefit of this investment to be felt.
Conservative MP for Totnes and former GP Sarah Wollaston said it was an issue that had been building up for some time.
She said: "Doctors, as they come through medical school and do their junior doctor training, are tending to go into acute hospital specialities.
"We really need about half of them to come into general practice."