Brittany Ferry staff 'told to stay at home'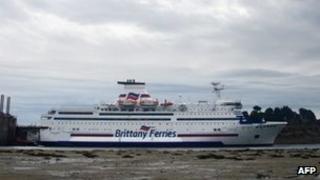 Brittany Ferry employees are ready to return to work, but have been told to stay at home, according to one worker.
Veronique Kelmush, a crew member on the Armorique ferry currently in Roscoff, spoke of the situation.
She said after last week's strike workers received a letter from Brittany Ferries telling them to stay at home for the moment.
The company said it would not sanction a return until a "watertight agreement with the crew's union is in place".
'Stay at home'
Speaking on behalf of Armorique ferry officers, Ms Kelmush said: "We were on strike for 24 hours last week. After that we decided to start again at work.
"The company sent us a letter at home to say we were to stay at home and we have no work at the moment. We don't really know why."
A statement from Brittany Ferries said: "Even if some crew say they are prepared to return to work, we cannot run the risk of a recurring series of strikes disrupting our passengers and freight customers again."
Ms Kelmush said it was now down to the company and the union to reach a solution "very quickly and in a positive way".
Wildcat strikes by French staff began last Thursday over proposals to withdraw workers' allowances and change their working hours.
Earlier this week, the company said the action had cost it millions of pounds.
It has since added that it had good cash reserves which would see it through "for the foreseeable future".
The company has also announced all sailings, except the Poole to Cherbourg passenger service, which is operated on Brittany Ferries' behalf by Condor Ferries, have been cancelled up to and including the morning services on 2 October.
The company said the dispute posed no threat to the company's long-term future in Plymouth.