Brittany Ferry deal is rejected by employees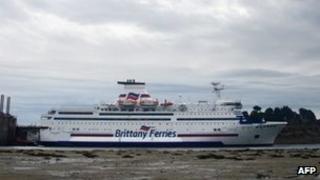 French Brittany Ferries employees have rejected a proposed settlement by managers in a dispute which has caused more than a week of sailings to be cancelled, the company says.
Wildcat strikes by French staff began last Thursday over proposals to withdraw workers' allowances and change their working hours.
Services have been cancelled until at least 2 October.
At least 36,000 passengers are estimated to have been affected so far.
'Responsible plan'
Managers and members of unions have been called for talks in Paris by France's transport minister, Frederic Cuvillier, about the situation, according to reports in some of the French press.
Brittany Ferries said it welcomed the minister taking the initiative to meet with union members.
The company said it was "a responsible plan, which does not involve a reduction of personnel".
Earlier in the week, some employees who took part in industrial action said they were ready to return to work, but were told to stay at home by the company.
The company said it would not sanction a return until a "watertight agreement with the crew's union is in place".
Routes cancelled include sailings from Plymouth to Roscoff and Santander; and Portsmouth to Caen, Cherbourg, St Malo and Bilbao in Spain.
The only route unaffected by the industrial action is the Poole-Cherbourg passenger service, which is operated by Condor Ferries on behalf of Brittany Ferries.