Tom Scriven, 80, finishes 80km run in Axminster early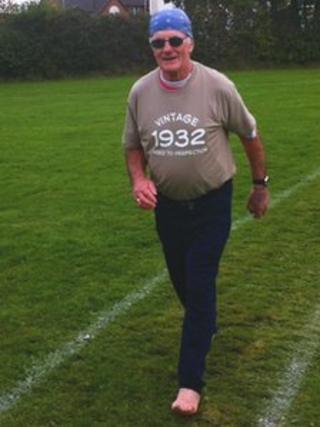 An 80-year-old man completed a 24-hour, 80km (50 mile) charity run five-and-a-half hours ahead of schedule.
Tom Scriven, from east Devon, ran the "80 at 80" to celebrate his recent birthday and to raise money for the Devon Air Ambulance.
But Mr Scriven, of Membury, continued to run an extra 12km (seven miles), drawing strength by drinking Guinness.
"A lot of people sponsored me for a 24-hour run, so it would be cheating if I didn't keep going," he told BBC News.
Mr Scriven finally completed 92km (57 miles) at Axe Valley Community College Sports Field.
The Irish-born octogenarian, who only took up jogging when he was in his mid-50s, is hoping to raise about £1,000 for the air ambulance charity.
'Bit sore'
He admitted to feeling the effects of the first 80km.
"I'm a little bit sore and stiff, but I'm still functioning."
Since taking up jogging as a way of keeping fit, he has become an endurance runner and completed "more marathons than I care to remember".
"Staying active keeps you ahead of the ageing game and 60 nowadays is looked on as the new 40, so therefore why can't 80 be the new 60," Mr Scriven said.
When he started jogging he "instantly fell in love" with it and was "tickled pink" when he had built up to running a distance of about 3km (two miles).
"I was quite proud of myself and then someone suggested I try a marathon," he said.
'Vitamin G'
Mr Scriven said by the time he had completed his first marathon, at the age of 58, he had "fallen in love with that too".
"Every journey starts with a step and it finishes with another step, so you just have to concentrate on all the steps in the middle," he said.
Official lap counters were set up to "make sure I don't cheat".
A grass track was prepared for the challenge, which is why Mr Scriven decided to run in bare feet.
During the challenge, Mr Scriven drank Guinness - which he refers to as "vitamin G" - every few laps to help keep his strength up.