Dartmoor sheep safety campaign launched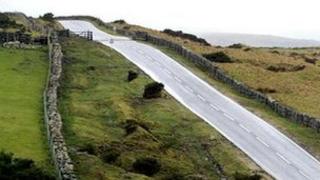 A campaign has been launched to promote responsible dog walking on Dartmoor after the death of more than 50 sheep this year.
The Dartmoor Livestock Protection Society says there have been 52 dog attacks in 2012 - following 72 sheep deaths in 2011.
Karla McKechnie, from the society, said some attacks have been "horrific".
The society has launched a poster and leaflet campaign to encourage dog owners to keep their pets on leads.
Ms McKechnie said: "Sheep are like fluffy toy for dogs. It really is a battlefield out there.
"The incidents that happen can be horrific. You have got to see it to believe it.
"Farmers are beating their heads against the brick wall. This has been going on for years."
Attacks have not just been limited to sheep. In May a foal and mare were attacked on the moor. The foal was later put down by a vet.
The society said it was asking dog owners to keep their pets on leads around livestock.
This latest campaign follows "Paws on Dartmoor" where dog walkers were given advice on responsible behaviour by Dartmoor National Park bosses.